Legal advice in real time
– that's our hallmark.
We understand that sometimes delay can destroy important legal rights forever. Our services are designed to accommodate this. We act quickly, concentrate on getting solutions and firmly enforce claims on your behalf. Our rule of thumb: personal care, effective protection.
Fields of law
Kanzlei Kötz Fusbahn
As a highly professional law firm we that offer our clients a great deal of personal support. We represent both national and international clients. Our client base includes photographers, persons in the public eye, artists and performers, models, private individuals in addition to agencies and companies.
 


Press law and
personality rights

The areas of press law and personality rights directly affect companies, celebrities, artists, performers and private individuals as these areas deal with unauthorised, illegal or unwanted reporting in the media.


Copyright and
media law
The provisions laid out in the Copyright Law protect the intellectual property of creators of text, music, pictures and cinematographic works. Our clients include artists and photographers as well as agencies and companies.


Trademark
law
Trademarks are central to the economic success of a company and offer a decisive competitive edge. Among other things, trademark law regulates the branding of products, services, companies and intellectual works.


Competition law
In particular the German Act on Unfair Competition (UWG) regulates the fair co-existence of market participants as they compete for customers and protects against unfair practices by the competition.


Privacy
Personal information is now a significant economic asset and in connection with "Big Data" the basis for effective marketing. Companies collect and process more and more personal data.


IT-Compliance, License audits, Youth Protection, DMCA-Agent
It is becoming increasingly important for both companies and entrepreneurs under liability aspects to ensure proper handling of data, digital documents software and its licenses.
The team is made up of 4 lawyers who complement each other in the best possible way to the advantage of the client. Our Kanzlei distinguishes itself through our strong commitment to service, our all-out practical approach and the individual support we provide to our clients.
The Kanzlei successfully represents national and international clients in legal action both in and out of court. Our clients include:
Media companies from Germany and the USA
Advertisers and tradespeople predominately in the area of trademark and competition law
Photography, Internet and model agencies
Photographers
Public figures
Catwalk and part-time models
Artists and performers
Recipients of cease-and-desist orders
Private individuals and companies who are affected by media coverage
Our client understanding
and fees
We foster a dialogue-based partnership with our clients. For us, taking on a mandate means that we place your case right at the centre of our deliberations and work with you to develop the ideal solution.
Vorträge zum Netzwerkdurchsetzungsgesetz
Das sog. Netzwerkdurchsetzungsgesetz, kurz NetzDG, stellt einen Vorstoß des Bundesjustizministeriums gegen sog. Hate Speech dar. Damit gemeint ist objektiv strafbare Hassrede. Außerdem sollen Fake News, also bewusst falsche Nachrichten bekämpft werden. Das Gesetz wird durchweg als unzulänglich abgelehnt, wobei die meisten Kommentatoren der Auffassung sind, dass staatlicherseits jedenfalls irgendwie auf die genannten Phänomene – Hate Speech und Fake News in den sozialen Netzwerken – reagiert werden sollte. Das Gesetz ist aus zahlreichen Gründen untauglich und dürfte verfassungswidrig sein. Rechtsanwalt Dr. Daniel Kötz hat hierzu bereits mehrere Vorträge gehalten, der nächste erfolgt in den USA.
Update: Der Vortrag in Baltimore/Maryland fand inzwischen statt, der nächste steht an in Berlin auf der Messe XBIZ Berlin. Dort heißt es: ""Koetz is the only German member of the U.S.-based First Amendment Lawyer's Association and has built a reputation as a champion of free expression on the internet in Germany and will focus his discussion on a bill…that threatens expressive freedom on social networking sites."
Free Speech in Peril - the New Anti-Hate-Speech Law in Germany

Free Speech is targeted intensively in Germany. "Hate Speech" is the buzz word that lawmakers love to use to limit Free Speech, just as "Youth Protection" was a while back. The German Minister of Justice's draft of a law against "Hate Speech" and "Fake News" was passed this month – against a multitude of critical comments by the United Nations' special rapporteur on the Promotion and Protection of the Right to Freedom of Opinion and Expression. The law aims to kill free speech on the internet. Will Germans, and other democracies, accept laws against Hate Speech? Are laws against Hate Speech unconstitutional in Germany? Will Hate Speech laws spread to other countries?
Marke "Gropius" für Türklinken gelöscht!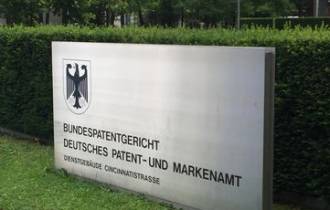 Eine Mandantin der Kanzlei Kötz Fusbahn, die u.a.  Türbeschläge herstellt, ist gegen die deutsche Marke "Gropius" vorgegangen und hat wegen eines sog. Absoluten Eintragungshindernisses einen Löschungsantrag beim Deutschen Patent- und Markenamt  eingereicht. Die Marke sei irreführend und rein beschreibend. Die Markeninhaberin wollte den Beschluss des DPMA nicht gegen sich geltend lassen und legte Rechtsbeschwerde ein. Nach einer mehrstündigen Verhandlung beim Bundespatentgericht in München nahm die Markeninhaberin die Beschwerde zurück. Damit ist die deutsche Marke gelöscht.